You've seen the commercials. You've read about it online. You may have even heard friends and family talk about it. Experian Boost™ is a relatively new financial product that's helping millions of consumers in a variety of ways.
Here's the Experian Boost™ tagline:
Only Experian can raise your FICO® Score instantly
How does that sound to you? Could you benefit from a quick boost to your FICO® Score?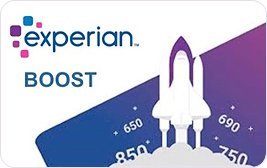 Get Free Credit Score
Here's How it Works
If all this sounds interesting to you – and it probably does – it's simple to get started with Experian Boost™. Here's what you have to do:
Connect the bank accounts that you use to pay your bills (this information is never shared)
Choose the positive payment history that you want to add to your credit file
Sit back and wait for your boost
It really is that simple. The key to success is choosing the right accounts to add to your credit file. With the ability to get credit for your phone and utility bills, it's safe to say that you have one or more that you can apply.
Is Experian Boost™ a Credit Repair Service?
While the two appear similar, Experian Boost™ offers an entirely different (and unique) experience.
A credit repair company charges you for their services. Furthermore, they don't have the ability to quickly increase your credit score.
Conversely, Experian Boost™ is 100 percent free and designed to give you the quick boost you're looking for. There's no relying on anyone else. There's no out of pocket payments in hopes of success.
Other Benefits
By now, you should have an understanding of the top benefits associated with Experian Boost™. However, there are even more reasons to give it a try:
Instant access to your FICO® Score and Experian credit report: This gives you a clear idea of where things stand right now, so you can track your positive growth in the days, weeks, and months to come.
Experian credit monitoring and alerts: For example, if fraudulent activity is detected on your account, you'll receive an alert. You can then take the appropriate action to dispute the activity, all before it drags down your credit score.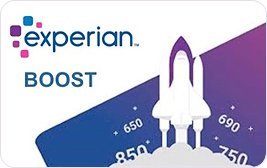 Get Free Credit Score
Final Thoughts on Experian Boost™
"I was using Credit Karma before but now that I found Experian I feel like that's the only way to go"
"Because everyone deserves a little bit of Boost"
"It feels like I have more control over my credit"
These are quotes published on the Experian Boost™ website by satisfied customers. It gives you an inside look at what you can expect from the service.
Here's one last thing to think about: FICO® Scores are used by 90 percent of top lenders when making lending decisions. So, if there's anything you can do to boost your score, it makes sense to take advantage. And that's especially true for a free product from an industry giant like Experian.
FICO® and the FICO® product and service names referenced herein are trademarks or registered trademarks of Fair Isaac Corporation in the United States and in other countries.